P-3 Alignment
Pre-Kindergarten through 3rd Grade Alignment, or "P-3" is a comprehensive reform strategy that is gaining momentum, both nationally and within our region, focused on ensuring that all children develop the cognitive and social skills that establish strong foundations for future learning. Traditionally, policymakers have focused in on middle school and high school in efforts to address the achievement gap and high school drop out rate. They have paid less attention to the foundational years of education or ensuring that learning builds from one year to the next.  P-3 urges educators to take a long range view of education and to develop policies and practices that support the foundational development of children's most crucial cognitive and social skills.
P-3 Alignment has been identified through research at the national level as having implications for deep work in four critical areas:
Leadership
Instruction
Community Partnerships
Family Engagement

P-3 Literacy Alignment
Graduation rates across our country show strong correlation with achievement levels in reading and writing by 3rd grade.  Use of language and knowledge of "literacy" at entry to kindergarten is critical to a student's ability to become a fluent reader and writer by 3rd grade. We believe that working to develop common approaches that support literacy development among district-community early learning partnerships will result in more children entering school with the skills and attitudes they need to be successful and to maintain that achievement over time.
NWESD P-3 Literacy Alignment Initiative
In 2009, the Northwest Educational Service District 189 (NWESD), in Anacortes, Washingtion, received a Bill & Melinda Gates foundation grant to expand PreK-3rd grade (P-3) literacy throughout their five-county region.  Bases on the promising practices of Nooksack Valley School District, NWESD introduced a professional development model of shared teaching and learning among teachers pre-k through third grade. In choosing literacy as teh instructional focus, the Nooksack Valley Collaboration brought David Matteson, an expert in emergent reading and writing, in to work with teachers from both Head Start and the school district.
Community PreK Cohort
in 2010, working in partnership with Child Care Aware, NWESD developed a "Community PreK Cohort" model that mirrored the professional development model occurring in districts, taking place on evenings and weekends to scale aligned literacy practices among community preschool programs.
Achieving Scale - Teachers Involved
Over the six year period of funding, NWESD has achieved significant reach.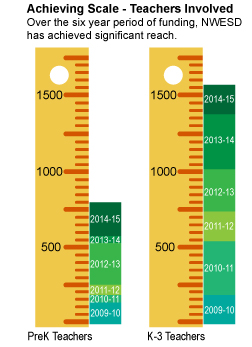 This website features a series of educational videos based on the work of David Matteson.  The videos examine the "big ideas" behind emergent literacy development and provide classroom examples of instructional approaches and assessment strategies that are grounded in developmentally appropriate practice.  David was filmed while doing what he does best, which is working directly with children and teachers.  You will see his engaging presentations, classroom demonstrations and meetings with teachers as they reflect on how his approaches work within their own classrooms.  The contents of this website are secure.  You must be a member of a participating cohort to access the Foundations of Early Literacy video content.  For more information please contact Karma Hugo at 360-299-4045 or khugo@nwesd.org.