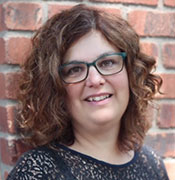 [ANACORTES, WA, June 2018] – Tonia Johnston, a Teacher on Special Assignment (TOSA), with the Oak Harbor School District was recently selected as one of three candidates, from the Northwest Educational Service District 189 (NWESD) region, for the Expanding Capacity for Special Education Leadership (ECSEL) program.
ECSEL is a prestigious post-graduate program offered through the University of Washington-Bothell. Designed for aspiring special education administrators, ECSEL focuses on the knowledge and skills needed for local education administration, with a concentration in Special Education. As a grant-funded program supported by OSPI, only 18 students were selected from a large applicant pool for each cohort.
Tonia has been working with the Oak Harbor School District for the past eleven years. Beginning her teaching career as a Special Education Preschool Teacher and for the past two years working as a Special Programs TOSA.
Tonia hails from Michigan and attended Spring Arbor University before moving to Washington to complete her Masters in Special Education at the University of Washington (UW). She also earned her accreditation as a Board Certified Behavior Analyst (BCBA) from UW.
Tonia found the ECSEL application process to be rewarding, specifically when going through the process of updating her resume she was able to reflect back on her accomplishments over the past ten years. She found joy in the fact that even as she continues to age and shift her roles, her desire to continuously learn and develop new skills never fades. Tonia said, "I am truly a lifetime learner!"
Tonia's top priority for going through the ECSEL program is to develop supports and training opportunities for fellow teachers, with specific goals for her colleagues to access more tools and have more confidence to meet student needs, thus improving outcomes for our students across the district. She is looking forward to the ECSEL program and developing her own skills in a way to support learning in our district.Tonia is proud to have been one of the districts Right Response trainers for the past four years, finding that she enjoys teaching not just young children, but adults as well.
---
Jennifer Menzies (Lake Stevens), Tonia Johnston (Oak Harbor), and Wendy Stegall (Snohomish) were recently selected for the ECSEL program to engage in an intense, cohort-based program consisting of two year-long seminars, a 400-hour internship requirement, and a set of performance tasks allowing candidates to demonstrate required proficiency. This blended online and face-to-face model combines summer and weekend meetings supplemented by e-learning resources, seminars, internship, and performance tasks.
###
The NWESD, located in Anacortes, is one of nine Educational Service Districts in Washington State. The NWESD serves 35 school districts in Whatcom, Skagit, Snohomish, Island, and San Juan counties; providing leadership and cooperative services to the educational communities in the northwest region. For more information about the NWESD, please visitwww.nwesd.org.
Contact: Jessica Haag, NWESD Communications Specialist
jhaag@nwesd.org| (360) 299-4714