Emergency Substitute Training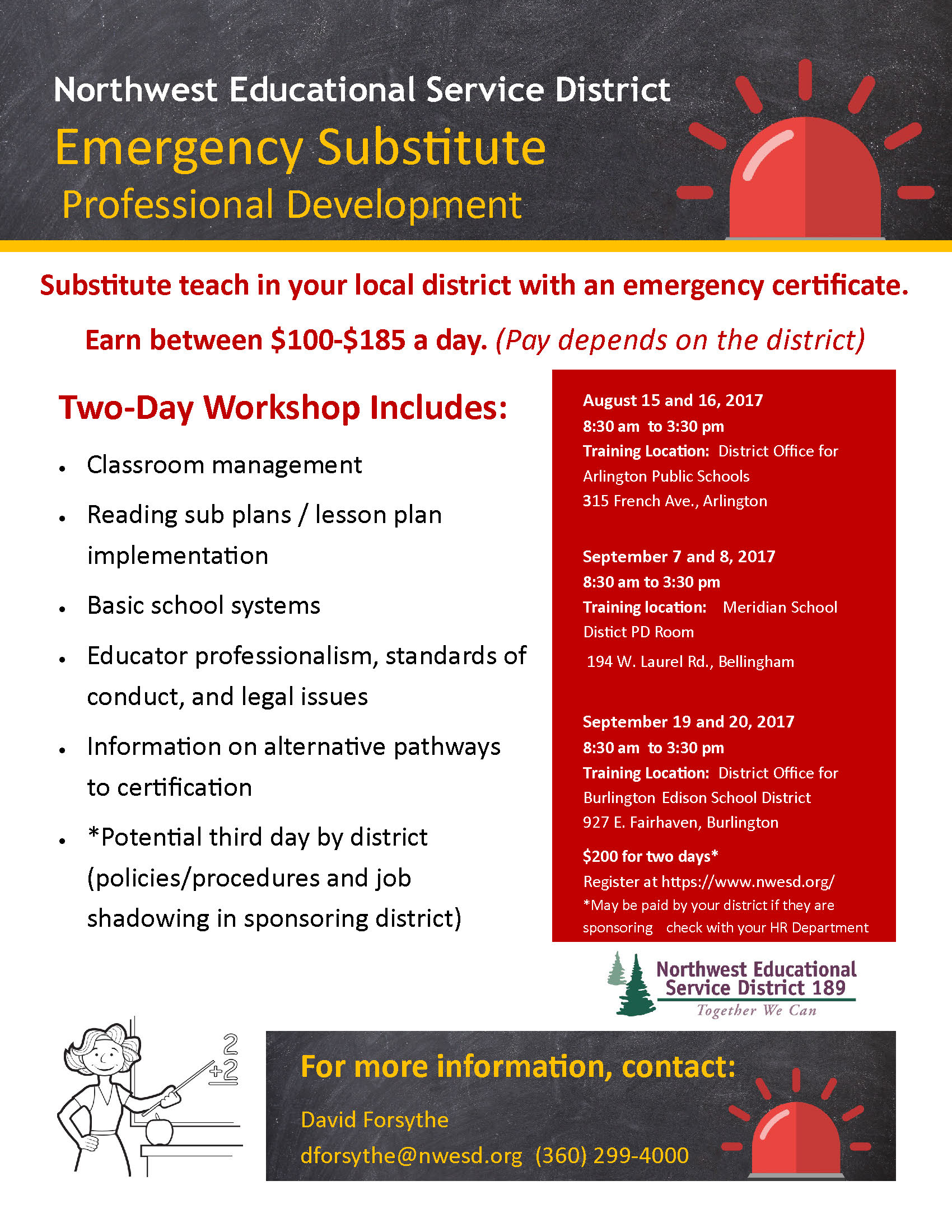 As districts are challenged with a critical shortage of substitute teachers, there is a need for training to provide professional development for potential emergency substitutes such as para-educators, volunteers, and parents.
The NWESD will be providing two-day workshops for potential emergency substitutes at locations throughout the region.  Participants will learn classroom management; how to read and implement lesson plans; basic school systems; educator professionalism, standards of conduct, and legal issues; and alternative pathways to certification.  An additional day of policies/procedures and job shadowing may be provided in sponsoring district.
Contact David Forsythe at dforysthe@nwesd.org or 360.299.4000 for additional information.
Upcoming Training
August 15 and 16 in Snohomish County - hosted by Arlington School District
September 7 and 8 in Whatcom County - hosted by Meridian School District
September 19 and 20 in Skagit County - hosted by Burlington-Edison School District
Watch for additional information to come soon!   
Emergency Substitute Certificate
To apply for an emergency substitute certificate with a local district, you first need to create an Education Data System (EDS) account with the Office of Public Instruction (OSPI) - see instructions below.  The second step is for the district to sponsor you, where they will authorize EDS to start/continue your emergency substitute certificate online through the EDS application called eCert.  
First-time user
Select the Create an Account tab.
Username must be a valid email address.
Password must be at least 8 characters long, and contain at least one uppercase letter, one lowercase letter, one number, and one symbol.
Complete the Required Login Information.
Complete the Data for Linking to a Certificate. If you were ever employed by a Washington school district, you have data to claim.
Click Register. You will be prompted to Request Application Roles. This option can take up to 30 minutes to appear. If your school participates in eVal, you may request a role at this time OR select Not Now to continue to E-Certification.
Click Login.
From the EDS homepage, select:
View my applications
My Application List E-Certification
From the E-Certification homepage, select:
Available Role
My Credentials tab
Educator tab
Use the dropdown to select your desired action.
Please see the Login instruction sheet for additional technical assistance.
Emergency Substitute Training Resources
For more information, contact David Forsythe |  360.299.4000 |  dforsythe@nwesd.org