News Release from NWESD
March 15, 2018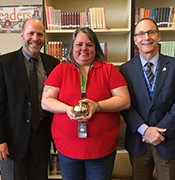 ANACORTES, WA – Angela Kolb, a Paraprofessional from La Venture Middle School in the Mount Vernon School District, has been named 2018 Regional Classified School Employee of the Year by the Northwest Educational Service District 189.
The Classified School Employee of the Year program recognizes excellence in the work of public school employees, including paraprofessionals, secretaries, custodians, food service workers, and others. Anyone may nominate a classified public school employee for this award, which is overseen by the Office of Superintendent of Public Instruction (OSPI). All completed nominations are sent to the regional coordinator at each ESD, who in turn selects a regional winner. Ms. Kolb is one of nine regional winners who will go on to compete for the State Classified School Employee of the Year award.
Ms. Kolb has taught in the Mount Vernon School District for eight years. Her work is varied, but includes a focus on helping teachers, administering testing, and working one-on-one with children who have learning disabilities. She also works with the A.L.E. program (Alternative Learning – Experience), which is for children who are no longer able to attend main day schooling for behavior and discipline reasons. The A.L.E. program gives them a chance to learn their way back into a mainstream school day.
"My children are my greatest achievements in my life. I feel great joy in their happiness and a greater responsibility in ensuring that they have the opportunity to live a happy and enriched life. I believe that a solid education is the easiest way to achieve that goal. I began working in education with the same desire to help provide other children with the same opportunities to obtain a happy adulthood. I enjoy working with all of these children and trying to be a positive influence in their lives." – Angela Kolb
"The commitment and passion that Angie has shown as a paraprofessional in the Mount Vernon School District is nothing short of spectacular – she is hard-working, selfless, and utterly devoted to the students of La Venture Middle School, and especially to those who don't quite fit in." – Dave Riddle, Principal, La Venture Middle School
"Angela Kolb is an example of our classified staff who go above and beyond every day- not only does she work and support our students all day, but she also supports Mount Vernon's after-school program and plans and coordinates their outdoor camp each year." – David Forsythe, Assistant Superintendent, Operations NWESD
After advancing on to the statewide competition, regional finalists will be recognized by OSPI at an annual award ceremony in Olympia (date TBD), where OSPI will announce their selection of the State Classified School Employee of the Year. For more information on these awards, contact OSPI Recognition Coordinator, Hilary Seidel, at 360.725.6117.
Pictured: Larry Francois, NWESD Superintendent; Anglea Kolb, Award Recipient;Dr. Carl Bruner, Mount Vernon School District Superintendent
###
About The NWESD, located in Anacortes, is one of nine Educational Service Districts in Washington State. The NWESD serves 35 school districts in Whatcom, Skagit, Snohomish, Island, and San Juan counties; providing leadership and cooperative services to the educational communities in the northwest region. For more information about the NWESD, please visit www.nwesd.org.
Contact: Jessica Haag, NWESD Communications Specialist